3 Must-See Places On A Philadelphia School Trip
The City of Brotherly Love is an under-appreciated destination in our opinion. It is a perfect option for students of all ages. It can be visited as a day trip, an overnight stay, or an optional pit-stop en route to New York or Washington D.C.
We present to you a few overlooked attractions we would consider when planning your trip to Philly! Discover for yourself why we are obsessed.
One Liberty Observation Deck
Eastern State Penitentiary

Penn Museum
One Liberty Observation Deck
Quite frankly, we love a good observation deck. This one sits at 883-ft. Tall on the 57th floor of One Liberty Place. It's a block or two away from the "LOVE Statue" and within the shopping area downtown. The best way to embrace a stunning city skyline is from above!
Eastern State Penitentiary
This attraction is definitely not for everyone, but it is worth considering. I remember visiting my local penitentiary in middle school. It was a surprisingly life-changing experience. I have been fortunate enough to have never needed to visit a prison before, so it was interesting for the guards to guide us through the facility, show us a call and have us meet an inmate and interview him on his experience and life story.
However, the Eastern State Penitentiary is no longer an active facility. It is a more historic visit as it was once the most famous and expensive prison in the world, holding famous inmates such as Al Capone. Learn all about the facility's history and its relevance today! It's an unforgettable experience for groups who have chosen to visit in the past. (Pssst… They also offer haunted ghost tours in the evening!)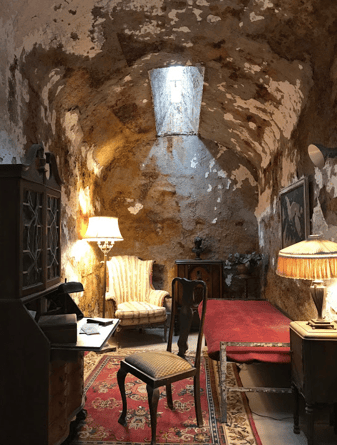 Al Capone's Cell at Eastern State Penitentiary- Photo by Michaela Ruffino.
Penn Museum
The museum is sponsored by the University of Pennsylvania and focuses on archeology and anthropology. There are galleries devoted to a few European regions, the Middle East, Asia, and even Sphinxes! The museum also offers guided tours or workshops if this is of interest to you. You should definitely consider this attraction if you hope to include a museum on your visit.
Philadelphia is an artsy, eccentric, spunky city. Consider traveling on a standard excursion, or customize your visit to include exactly what you want. Perhaps you may include some of the attractions mentioned in this article! Reach out to one of our Travel Specialists today to get started!