Charleston School Trip Highlights
Charleston is one of South Carolina's hidden gems for many reasons. Other than its warm and inviting feel, cobblestone streets and award-winning restaurants, Charleston has a lot to offer. Those on a school trip to Charleston will have an extensive list of things to do and places to see. Some highlights of Charleston, South Carolina are:
South Carolina Aquarium

Fort Sumter National Park

Magnolia Plantation

USS Yorktown- Overnight Stay
South Carolina Aquarium
South Carolina Aquarium is unique and special to the area as it is not a typical aquarium. While it may be labeled as an aquarium, students on a class trip to Charleston will be able to view a variety of animals, from birds to those that live in water. The aquarium is home to over 5000 species that are native to South Carolina. In 2019 they were awarded and recognized for this achievement as you wont find a collection of exotic species from around the world. This aquarium has a huge focus on conservation and education as it has been recognized as a leader in both areas.
Fort Sumter National Park
Another iconic stop on a school trip to Charleston itinerary is Fort Sumter National Park. Just like any other state, South Carolina is rich in history and Fort Sumter tells some a little of the story. Students will learn about the importance of Fort Sumter and the role that it played during the Civil War. It is important to note that the Fort is only accessible by boat. However, once there students will be able to participate in outdoor and indoor activities as well as a guided tour. This is a great history lesson for students.
Magnolia Plantation
Established in 1676, there's no doubt that Magnolia Plantation would not be one of Charleston's highlights for students on a school trip. The history, diversity, and variety of things to do while at this one location makes it ideal. Students will have a chance to learn about life on a plantation while also being introduced to the nearby gardens and their occupants. If they are lucky, they can even observe alligators in the swamps. Magnolia Plantation is surely perfect for a school trip.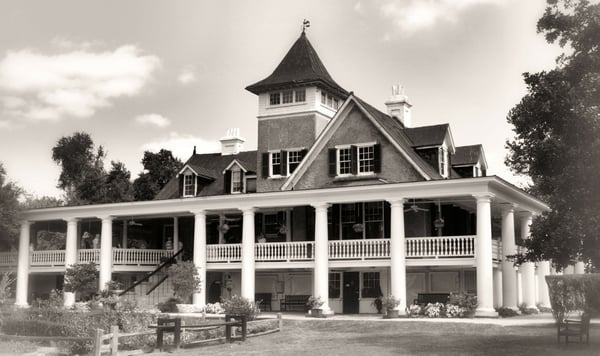 House at Magnolia Plantation
USS Yorktown- Overnight Stay
USS Yorktown which is located at Patriots Point Naval & Maritime Museum is of significant importance to US history. Students will have the opportunity to learn all about it with just one visit. They will learn of its role during World War II and how it originated.
Charleston is a city with an array of activities and places to visit making it ideal for students on a school trip. The listed highlights are sure to create a memorable experience for students all while teaching which is the aim of every school trip. Now, you're ready to book a trip to Charleston with us!