Disney World School Trips To Orlando, Florida
About Walt Disney World Orlando
On your next school trip to Orlando, Florida, there is more to do at Walt Disney World than meets the eye. There are really great educational experiences to take advantage of at the Resort that you don't want to miss out on. Student groups can come here not only for a fun field trip, but an educational one.
From the park of Epcot, all the way to Magic Kingdom, there is plenty for your student to learn. And don't forget about the festivals that fall around four times a year. Since Mr. Walt Disney himself was fascinated by American History, even having one of the Liberty Bells, he wanted to spread his joy for learning for years to come.
Epcot

Animal Kingdom

Hollywood Studios

Magic Kingdom
Epcot

Epcot is a great park for any school trip. Epcot has the World Showcase, the Sea Base, Living with the Land, and more. The World Showcase has 11 countries represented around a reflective lagoon. These countries being, Mexico, Norway, China, Germany, Italy, the United States, Japan, Morocco, France, the United Kingdom, and Canada. This is one of the more relaxing and scenic areas of Disney. It's not as thrilling as other attractions, but there are movies, boat rides, and shows that tell you about the county that you're in. Of course there is also the Frozen Ever After ride, in Norway. At each pavilion there are Kidcot Fun Stops. This is where students can make free crafts(and yes, I did say free.) Another cool thing about the World Showcase is that the cast members come from the country that you're visiting. They are alway eager to talk about their homeland and share their culture.
Moving onto the Sea Base, it can teach so much about our world's sea life. The 5.7 million-gallon aquarium is home to some of the most amazing sea creatures. Make sure to be there for feeding time so that you can hear the cast members talk more in-depth about the animals. There are lots of interactive exhibits in this area as well as private tours. This aquarium holds over 4,000 sea creatures and over 60 species. Students can also Scuba Dive inside the Caribbean Coral Reef Aquarium. The diving adventure Dive Quest lets you explore in a guaranteed calm sea. The experience allows you to get a closer look at sea turtles, dolphins, eagle rays, sharks, and more. There is also a program where students can swim with the dolphins!
Lastly I'll write about Living with the Land. Living with the Land is a wonderful educational ride through the greenhouses of the Land Pavilion in Epcot. Students will get to hear about where food comes from, and how Disney is using innovative ways to grow foods right on the resort. On the trip you'll get to see live freshwater animals as you travel through the fish farm. There is also a "Behind the Seeds" tour available. If you'd like to try out some of the foods yourself, plan to dine at the Garden Grill Restaurant while you're there. Living with the land can give for a new appreciation for farmers and agriculture.
All of these attractions in Epcot are great for showing students real life applications. World Showcase is an outstanding place for students to learn about different cultures from around the world. While both Sea Base and Living with the Land is amazing for students studying science. Learning about sea life and food hit many fields. Some include biology, earth science, life science, and physical science, just to name a few.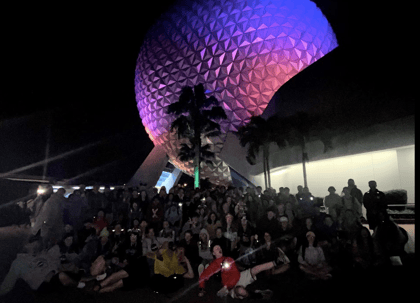 A group with GO Educational Tours posing for a group photo at Epcot!
Animal Kingdom
Now of course there is Animal Kingdom. This theme park is all about animals, but again, that doesn't mean teens won't enjoy their time here. The Kilimanjaro Safaris is the star attraction here, but the Kali River Rapids is a water ride that students tend to love. With Disney's Caring for Giants 60-minute experience, you'll meet with dedicated animal specialists who provide for the care and wellness of their African elephants. They'll give you a glimpse into their day-to-day responsibilities as they provide fascinating facts about the elephants. African cultural representatives will also be on hand to share stories of Disney's conservation efforts dedicated to the preservation of wild populations throughout their homeland. Throughout this experience, you'll be able to observe the elephants from approximately 80 to 100 feet away—so you'll enjoy a closer encounter with the elephants than you would during other in-park experiences.
Another amazing experience that Animal Kingdom offers is, Savor if the Savanna, an evening safari experience. Immerse your senses during a privately guided journey and explore the sights and sounds—and tastes—of Africa. The safari begins by traveling into the heart of the Harambe Wildlife Reserve. As the evening rolls in, students will soon find themselves within one of the most secluded and breathtaking private viewing areas the Savanna has to offer. Your guide will tell tales of the unique residents who inhabit the reserve, and don't hesitate to ask questions as he or she shares insightful information about the wildlife within Disney's Animal Kingdom park. While on this trip students are able to try samples of African-inspired cuisine. This is a perfect way for students to learn about new cultures and animals without having to travel far.
Another great opportunity for students who are interested in animal behavior, biology, or cultural studies. The Animal Kingdom is full of education also on the zoology end of your journey around Walt Disney World. It's the home of more than 1700 animals and 250 species! Become a Wilderness Explorer upon arrival and expand your knowledge of the wilderness.

GO Leaders at Animal Kingdom with GO Educational Tours.
Hollywood's Studio Park
Movie magic comes alive at the Hollywood Studios Park. This is the perfect place to have students learn about film and movies. You can visit the Academy of Television Arts and Science Hall of Fame to learn about all the golden movie stars such as Lucille Ball, Oprah Winfrey, Bob Newhart, Dick Clark, and of course Walt Disney to name a few. Students can also learn about how Disney Animated characters are made at The Magic of Disney Animation. This will give students the ability to experience what it is like to be a Disney Animator by learning to draw Disney Characters taught by a Disney Animator.
Magic Kingdom
Magic Kingdom is the heart of Disney, and therefore of course where Mr. Walts Disney's passion for American History really comes into play. The Hall of Presidents holds our Presidents from ! There you will have a unique look at the Presidents and how they interact with the American People and some of our nation's history. Learn about the formation of our Constitution and the hard-fought struggles along the way—such as the American Revolution and the Civil War. Listen to John F. Kennedy's voice through the theater and watch Abraham Lincoln deliver his Gettysburg address. Hear speeches delivered by George Washington and the newest addition to the Hall, 45th President Donald J. Trump. How about Literature next? As we take a ride on the Liberty Square Riverboat for a glance of what Mark Twain wrote about in his books and go explore Tom Sawyer Island.
As you can see, we have barely scratched the surface of each park and how they offer their own unique learning experiences. So don't be afraid to take your child out of school, explain to the school how this is not a vacation but a fun filled learning experience for your family. Even have your child write a report on all they learned while at the Happiest Place of Earth to share with their class when they return!
By: Jolene, Former Intern