Doka Estate Coffee Tour on a Costa Rica School Trip
A school trip to Costa Rica is not complete until students visit a local coffee farm and have a tour. Along with other fun activities, students will have the chance to learn in great detail about coffee. We have just the perfect addition so that students can have a fulfilling trip, Doka Estate.
About Doka Estate
Doka Estate is a family owned and ran business as it has been within the Vargas family for three generations. The family has been a part of this industry for over 80 years as they began in 1940. Initially, they began as a business that focused exclusively on growing quality coffee. Now, they have broadened their expertise as they grow and process the coffee beans. Doka Estate has received several regional awards for their superior coffee. It has also been classified as a Historical and Architectural site by the Costa Rican Government as it has the oldest Wet Coffee Storage in the country, that is still in production. They offer tours for locals and foreigners so that all can learn about the history of the company and the production of coffee.

Students learning about roasting coffee beans during the Doka Estate Coffee Tour!
About the Doka Estate Coffee Tour
Students will have the opportunity to visit the largest coffee plantation in Costa Rica. While there, students can receive a tour of the facilities spearheaded by a Doka guide. Various tour packages are offered but they all allow students to view the beautiful grounds and learn about coffee cultivation, production and good practices. There's even a nearby volcano that can be visited and toured while at Doka Estates. Doka Estates is an attraction that has several interest points for students on a school trip to Costa Rica.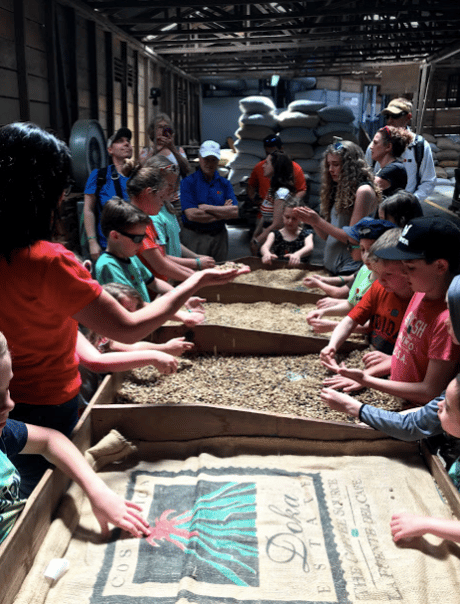 Students at the Doka Estate Coffee Tour with GO Educational Tours in 2019!
Costa Rica is infamous for its coffee plantations. Therefore, a visit to one while a school trip is essential. It is a great opportunity for students to learn about an item that has quite easily become a common commodity in today's world. Start planning your trip to Costa Rica today!