Gettysburg School Trip Highlights
Gettysburg, Pennsylvania is a small town that is known for Gettysburg National Battlefield which was a pivotal point during the Civil War. The small town is packed with history making it a perfect attraction, whether students are on a school trip to Pennsylvania or are in transit to another state. While there here are some highlights of Gettysburg:
Gettysburg National Park Tour with Licensed Battlefield Tour Guided
Jenny Wade House Museum
The American Civil War is a significant piece in American history and those involved have become important names in history, like Jenny Wade. Jenny Wade's story is indicative of life during the Civil War and the sad reality of many. The Jenny Wade House is decorated with artifacts that highlight Jenny's tragic day. Students will learn of her unfortunate demise and gain insight into life during this time whether through a regular bus tour or even a ghost tour. A visit to Jenny Wade House during a school trip to Gettysburg is certain to show students another aspect of life during this time.
Shriver House Museum
Another view into The Battle of Gettysburg is through the lives of the Shriver Family. It is a memory and historical artifact that allows us today to gain a better understanding of the tragic occurrences during that time. Even though it was once a home it has become a story of history. Students will be able to view live civil war bullets and numerous bullet holes throughout the Shriver's home. They will also be able to see the various roles the Shriver Family played in their community through simply touring the house. Shriver House Museum tells a story of a family during The Battle of Gettysburg, making a recommended stop while on a school trip to Gettysburg.
Gettysburg National Park Tour with Licensed Battlefield Tour Guide
The tour of the Gettysburg National Park is unique as it is headed by a licensed battlefield tour guide. Once you arrive, the guide will deliver a tour on the motorcoach. It involves multiple stops throughout the park in which the tour guide will speak in detail about each stop and its significance. The tour also includes demonstrations with the students.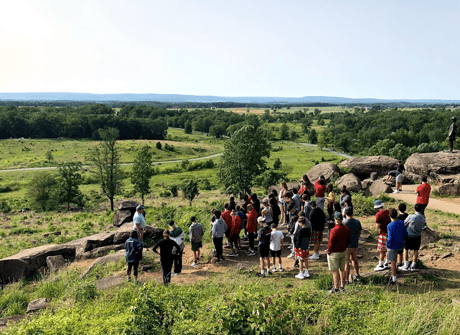 Licensed Battlefield Tour Guide presenting to a group at Gettysburg National Park!
When visiting Gettysburg on a school trip, students will learn in great detail about The Battlefield itself and the lives of many Americans during this time. These three highlights are often visited by many individuals that are interested in learning about The Battlefield of Gettysburg.