Gettysburg Virtual Field Trip
Gettysburg is home to some of the most historic and scenic Civil War sites. Follow in the footsteps of soldiers who fought at such iconic places as Culp's Hill, The Peach Orchard, Wheatfield, Devil's Den, Little Round Top, Cemetery Ridge, and more. Use the arrows at the bottom of the tour to navigate between scenes and click the tour points to learn more about the battlefield.
The Battle of Gettysburg was a significant Union victory considered by many to be the turning point of the Civil War.
In the summer of 1863, Confederate Gen. Robert E. Lee launched his second invasion of the Northern states. Lee sought to capitalize on recent Confederate victories and defeat the Union army on Northern soil, which he hoped would force the Lincoln administration to negotiate for peace. Lee also sought to take the war out of the ravaged Virginia farmland and gather supplies for his Army of Northern Virginia. Using the Shenandoah Valley as cover as he moved north on June 3, Lee was pursued first by Union Maj. Gen. Joseph Hooker, and then by Maj. Gen. George G. Meade, who replaced Hooker. Lee's army crossed into Pennsylvania mid-June, and by June 28 had reached the Susquehanna River. The opposing forces collided at the crossroads town of Gettysburg, Pennsylvania, on the morning of July 1. In severe fighting, the Confederates swept the Federals from the fields west and north of town but were unable to secure Cemetery Hill and Culp's Hill to the south. The following day, as reinforcements arrived on both sides, Lee attacked the Federals all along their line but failed to dislodge the defenders. On July 3, Lee attacked the Union center on Cemetery Ridge and was repulsed with heavy losses in what is now known as Pickett's Charge. Lee's second invasion of the North had failed and had resulted in an estimated 51,000 casualties on both sides, the bloodiest single battle of the entire war.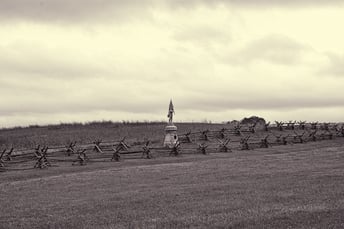 Gettysburg Park
While during these times of COVID-19, a virtual experience of Gettysburg is a wonderful way to show your students one of the most important battles in Civil War history. Be sure to check out our other destinations for future travel.