Planning a school trip to Washington, D.C.? Here's what do see and do!
Washington D.C. is our nation's capital and one of the most sought after destinations for school trips. Year after year busloads of bright young students are brought to learn and discover about our country's Founding Fathers, Bill of Rights, and the Declaration of Independence. Washington D.C. is also home to one of the largest networks of museums in the world. Visiting Washington, D.C. is do-able all year round!
If you are planning a school trip to Washington, D.C, here's what we suggest to see and do on your adventure.

The Wright Brothers plane inside the Smithsonian National Air and Space Museum.
What to see and do:
There is a variety of places to visit, things to see and do in Washington, D.C. With our sales team, trip organizers planning a school trip, customize and personalize their whole itinerary! Students that have traveled in the past love visiting the top tourist hits; like the National Harbor, Monuments and Memorials and more.
Smithsonian Museums

United States Capitol Building Tour

Supreme Court

The White House

Lincoln Memorial

Thomas Jefferson Memorial

MLK, Jr. Memorial

The National Archives

National Harbor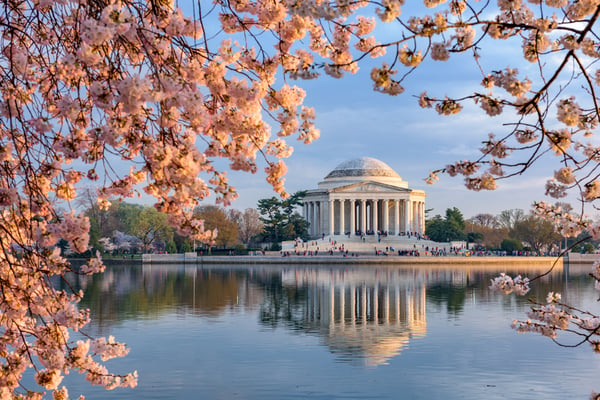 Washington, DC at the Tidal Basin and Jefferson Memorial during cherry blossom season.
Now keep in mind that any Smithsonian Museum is free to the public. However, if you'd like a tour of the White House or the United States Capital you must reserve it through your Congressman or Congresswoman that represents your home district. It is advised to do this about four months before you plan to tour either.
Contact us today! GO Educational Tours offers a variety of educational school trips to Washington, DC. We would love to help plan what to see and do on your next school trip to Washington, D.C!