San Francisco School Trip Highlights
San Francisco is such a unique and diverse city, perfect for a school trip! 'The City' as the locals call it, has had a huge impact on influencing California's history. The city's most popular tourist destination, Fisherman's Wharf, is near the Aquarium of the Bay at Pier 39. To keep students entertained for an entire day, the best place to go is Golden Gate Park, near the famous 1960s hippie neighborhood of Haight-Ashbury. Golden Gate Park stretches out over 1,017-acres and has several student-friendly spots: the California Academy of Sciences with the Steinhart Aquarium, the Japanese Tea Garden, and Stow Lake for paddle boarding. Keep reading for some San Francisco school trip highlights.
Fisherman's Wharf

Fisherman's Wharf, on the northern waterfront, is one of the city's busiest tourist areas. Souvenir shops and stalls selling crab and clam chowder in sourdough bread bowls appear at every turn, as do postcard views of the bay, Golden Gate and Alcatraz. There's also a colony of sea lions to see and historic ships to tour. At Ghirardelli Square, boutiques and eateries reside in the famed former chocolate factory.
Aquarium of the Bay at Pier 39

Aquarium of the Bay is a public aquarium located at The Embarcadero and Beach Street, at the edge of Pier 39 in San Francisco, California. The Aquarium is focused on local aquatic animals from the San Francisco Bay and neighboring rivers and watersheds as far as the Sierras.
Golden Gate Park
Golden Gate Park, is a large urban park consisting of 1,017 acres of public grounds. It is administered by the San Francisco Recreation & Parks Department, which began in 1871 to oversee the development of Golden Gate Park.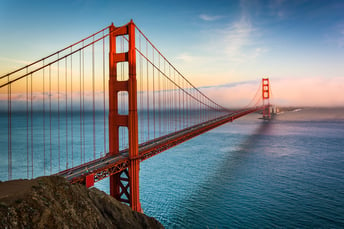 Golden Gate Bridge
With San Francisco offering this and many more school trip highlights, it can be rough to keep up. Check out our San Francisco Itineraries for inspiration on your next educational destination!