School trips to Montreal, Canada
Montreal is an excellent destination choice for any class. Planning school trips to Montreal for your group of middle or high school students? There is so much to discover! Whether you wish to make it more of a year end trip or a language experience or immersion trip, Montreal is an excellent option.
Learn Franglais or is it Frenglish?
While French is the majority French, its 'anglophone' side is very present and most new French students can use a mix of French and English to communicate - what it is locally called 'Franglais' or Frenglish. It's a combination of hand gestures, a mix of words from both languages, lots of smiling and finally understanding.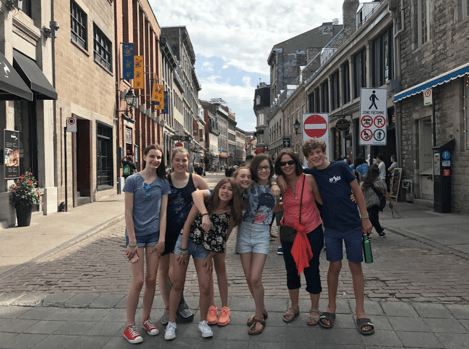 Old / Vieux Montreal
What will make your Montreal school trip memorable? From discovering the old part of the city to the new. In "le Vieux-Montreal" you step back into to the late 17th century, some buildings, like the rectory next to the Notre-Dame Basilica dates back to 1685. Here the first ever public clock in North America was seen.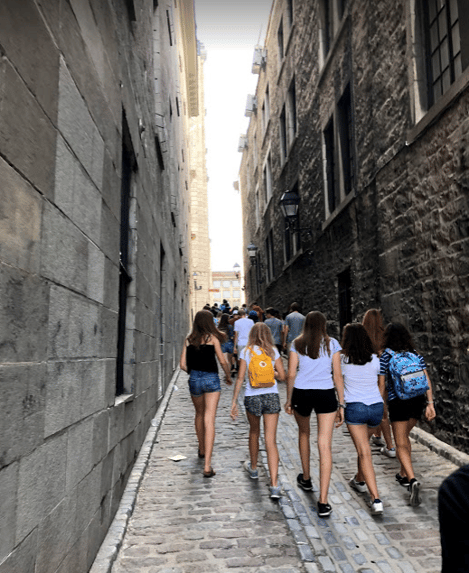 Students walking in Old Montreal in Montreal, Canada.
See actual 'Firewalls' before it was a tech term
The very distinct architecture of "Old Montreal" was very practical: the dormer windows, large chimneys and ladders on the steep roofs were all designed out of necessity. Dormer windows to let light in, large chimneys for heat during the undeniably cold winters and ladders to put out any possible chimney fires and of course the steep roofs to help the snow slide off. Notice the chimneys extending beyond the roofs: they were to delay any house fires to jump from house to another: they were the original 'firewalls'. ( see the image in this post for a good example, source; Jean Gagnon cc)
Museums and more
The Pointe a Callière Museum is a great start to discovering the city's past along with a 'ghost' walking tour in the evening. Other notable attractions feature the Olympic Stadium with the tallest inclined tower in the world. Then you can visit the BioDome featuring 4 natural ecosystems for students to discover.
Beyond the Old Montreal, you can indulge in the modern and vibrant city. Use it's subway (that has tires instead of steel wheels and they use peanut oil to lubricate the wooden brake pads). Have lunch or dinner at a nearby Sugar Shack and then finish up your evening with a chansonnier evening featuring "A Brief Canadian History".
Students on their class trip to Montreal will have the opportunity to practice and improve their French language skills with the locals all the while getting the feel of life in this most amazing and safe French-Canadian city.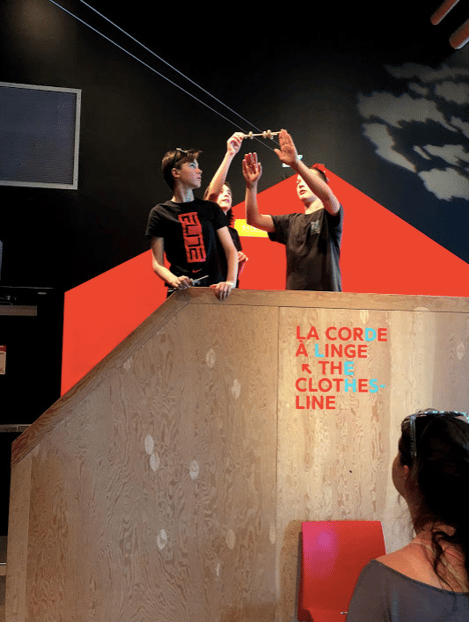 Students at the Montreal Science Centre with GO Educational Tours!
Get in touch with us anytime by clicking below to get a customized school trip to Montreal proposal. If you have any questions you can us at 855 446-8687 x 111.
And if you are a Foreign Language Teacher, Stefan, GO's founder, speaks fluent French and he will be very happy to serve you 'en Français'.
Merci et à bientôt.