Three day Washington DC field trip Itinerary
Washington, D.C. has always been a hotspot for student travelers. After all, it is the capital of America and after learning about American history in a classroom for years students on an educational field trip can finally experience it for themselves. Some points of interest are absolute must do's while you're touring the capitol. While others can be added on depending on the interest of the group. Let me walk you through our three day Washington DC school trip.
Day 1:
Departure: via motorcoach or airline depending where the group will be traveling from
*Optional add-on boxed lunch or fast food*
Mount Vernon
and see George Washington's residence and also final resting place.
Arlington Cemetery
to see the Tomb of the Unknown soldier. Seeing the changing of the guard is one of the most memorable experiences of the DC school trip. The dedication and discipline of these soldiers is absolutely impeccable.
Evening : Optional Ghost Tour
Day 2:
United States Capitol Visitor Center
Here students get to meet their Representative or their Senator(s). A great opportunity for them to learn more about the inner workings of our government.
FREE Group Picture (see conditions)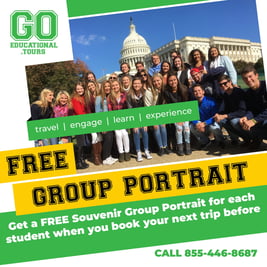 Lunch
Library of Congress
The National Archives
Visit the U. S. Holocaust Memorial Museum
Orientation walk around the White House & Lafayette Park
Dinner
Evening walking tour of the :
Washington Monument
Korean War Memorial
Vietnam War Veteran Memorial
Lincoln Memorial
Day 3:
Smithsonian Museums
- National Air and Space Museum to the Wright Flyer
- National American History Museum to see the original "Star Spangled Banner" that inspired Francis Scott Key's poem that became the national anthem
- National Museum of African American History and Culture
- National History Museum
- The National Zoo and more....
Lunch
Thomas Jefferson Memorial
FDR Memorial
Departure for home
Make sure to read more about our three day Washington DC school trip.