Virtual Norway School Trip
Norway is one of the most beautiful countries in the world. From their hospitality, cuisine and history it is one of the most sought after countries to visit. Of course, in the middle of the COVID-19 pandemic traveling isn't on the table for everyone. So keep reading for some great virtual Norway school trip options to explore this wonderful country.
Fjords
Scoured and gouged by ancient glaciers, Norway's fjords are a veritable wonderland. These deep, sea-drowned valleys, scissored by impossibly rugged terrain, were in 2009 voted by National Geographic Traveler magazine as the world's best travel destination.

Staring gobsmacked at the imposing cliffs of Geirangerfjord. Appreciating art nouveau architecture in charming Ålesund. Thrilling to the delights of Bergen, a beautiful, charming city, with a World Heritage-listed neighborhood, Bryggen, and buzzing harbor, ringed by seven hills and seven fjords.
Click here to see these fjords for yourself!
The Vikings Come Alive
The Viking Planet, a newly opened entertainment centre in Oslo, uses groundbreaking VR technology, 4D chairs, and cinematic sound to place you in the middle of the twelve-minute film "The Ambush", directed by Erik Gustavson. And you might feel the urge to hold on to anything available when you, through your VR headset, see attacking Viking warriors wherever you turn your head.
To offer new ways of experiencing the Viking Period, the centre has also implemented several other digital tools, such as a 270-degree cinema, interactive screens, and holograms.
Historian Kim Hjardar was responsible for ensuring that all the details in the films are historically accurate, from clothing and buildings to the food, and, not least, the hairstyles. And yes, they might seem somehow familiar.
Google Maps
When all else fails, good old Google Maps will always have your back. Google Maps have now included the "street view" function for Oslo itself and main roads in the Oslofjord/Eastern Valleys region. Bergen and Hordaland county as well as scenic drives in Hardanger and Sogn areas are also included. Stavanger and Kristiansand covered too.
Enter specific address or drag the "orange man" directly onto the map.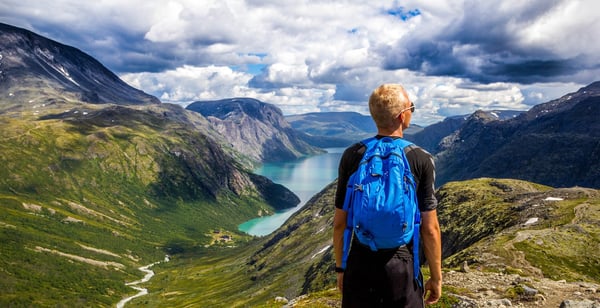 Norwegian Fjord
Experiencing virtual destinations is now our new normal, for now. Once traveling with groups are allowed to happen, check out our great Norway itineraries and start thinking about when you want to visit this beautiful country!