School Trip History Lesson: Who was John Glenn?
Born July 18, 1921, John Glenn took on many roles before his death on December 8, 2016. During his lifetime he became and aviator, engineer, astronaut, businessman, politician but more importantly an American hero. He has played a fundamental role in the evolution of aviation and space industry.
After attending college and taking many flying lessons, in 1942 Mr. Glenn enlisted in the U.S. Navy as an aviation cadet and then transferred to the U.S. Marine Corps where he earned his airman's wings. The year 1944 finds John Glenn serving combat duty in the South Pacific. He flew 59 combat missions in the Marshall Islands and earned himself two Distinguished flying Crosses and ten Air Medals. His career in the army then takes him to China then Korea, where he served a tour and flew support missions once again.
In 1954, John Glenn became a test pilot as he was awarded a coveted assignment as a test pilot at the Naval Air Test Center. Three years later, he was able to fly from Los Angeles to New York in 3 hours, 23 minutes and 8.4 seconds. This was a new transcontinental speed record. His career in aviation then led him to be chosen by NASA for project Mercury, along with six other pilots. This was where Glenn's career as an astronaut began as he now had an active role in spacecraft development. He helped to design the control capsule and insisted on a window in a spacecraft. On February 20, 1962, John Glenn was launched into space and became the first American to orbit Earth making him a national hero.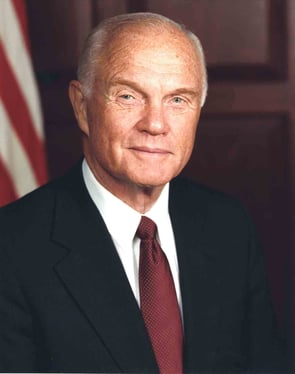 John Glenn
However, a few years later John Glenn decided to step into the political world as he announced his campaign for candidacy of the U.S. senate. Unfortunately, he was unable to follow through as he had sustained a head injury. The following year, 1965, Mr. Glenn began another career but as a businessman. He became the Vice President of Royal Crown Cola and later became the President of the company. John Glenn remained in the business and political world years after as he ran for Senate in 1970. He was not able to secure a seat in the Senate but was able to chair the Citizen's Task Force on Environmental Protection in 1971. In 1974, Mr. Glenn was finally elected into the Senate where he served four consecutive terms where he established several Acts. He was a part of the presidential race in 1983 but removed himself as the initial support was very low.
He continued his political career until 1997 when he announced the end of his congressional career. John Glenn then formed his Institute in 1998 for Public Service and Public Policy at The Ohio State University. He then continued his life as a public figure taking on various roles within NASA and his Institute.
John Glenn was a very diverse and well rounded many as he took on many roles throughout his life. He served and fought for the U.S. Army, then was able to make history as an astronaut. John Glenn then became a political figure for many years and used this time to establish several Acts. He has received many accolades and recognition for his work done. There is no question as to why he is seen as an American hero.