Planning A High School Trip To France
Our 'Discover France' program is the perfect first international travel experience. Here is some ideas for planning a high school trip to France.
1. Paris-Giverny
Our itinerary covers many of the main highlights without rushing your group. Start in Paris and see Gustave Eiffel's' most famous creation this icon of all icons: la Tour Eiffel.
Explore the city on the 'Metropolitain', from the Champs Elysees, to l'arc de Triomphe, Notre-Dame, then the Louvre, D'Orsay and Rodin Museum. If you are bold and daring make sure to explore the catacombs too.
As you make your way to Giverny you will stop at les Andelys' Château Gaillard, once known as the most impenetrable fortification in the world back in 1196. Richard Lionheart was then the King of England and the Duke of Normandy. The tour is exceptionally presented by the local guides.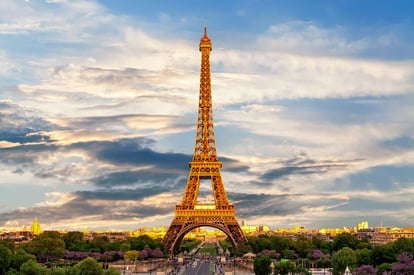 2. Honfleur and the Normandy Beaches
Once in Honfleur you will explore this quaint medieval town at the mouth of the Seine. Make sure to wake up early and catch the sunrise on port.
This is your jumping point to the famous beaches of the Normandy invasion of June 6th, 1944. One of the most notable landing points was at Pointe du Hoc where many rangers faced dangerous odd. Their sacrifice would help in taking the beaches on that day.
Stopping at Omaha and taking a moment to recognize the immense sacrifice at the cemetery and at the museum.
Then a stop at Ste-Mere Eglise to see the mile marker 0 of the road to liberty. Here allied troops would start their march to Paris that would see the city liberated and then on to the end of the war in 1945.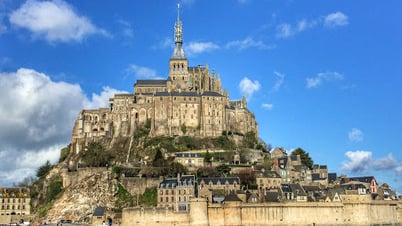 3. Mont-St-Michel
A UNESCO site not to be missed. As you drive towards it this remarkable structure rises dramatically on the horizon. Built over five centuries from the 1100 to mid 1600's it defies us to understand how it stands.
The arch angel Michael told a local bishop to build this site - it became a pilgrimage site since the 900's. Thus, he would start the work that would eventually grow into this most incredible structure.
See the 'merveille', the cloister and the abbey sitting on the very apogee of the rocky island it is built on.
Students enjoy some crepes bretonnes in the village to cap off the night.
4. Château de la Loire to Versailles
You can add the chateaus region and make Chenonceau, Chambord and many other castles of the Loire as part of your explorations. From there you start your way back to Paris and before you hop on your return flight you can stop for a guided tour of Versailles.
You can see an example of our high school trip to France here.