New Orleans School Trip Highlights
New Orleans is rich in culture and overflowing with things to do and places to see. For this reason, it's the perfect destination for a school trip as students are sure to be entertained all while learning. Three must sees while in new Orleans are:
The National WWII Museum
Mardi Gras World
Jackson Square
The National WWII Museum
A visit to a local museum is essential for a school trip and for those on a school trip to New Orleans, The National WWII Museum should be the museum of choice. It tells the story of WWII from an American point of view. The museum offers tours that are led by well informed guides that go into great detail and explanations about the war and its impact. Students will have the opportunity to view exhibits that highlight various parts of WWIII. They will also experience immersive oral stories that give detailed insight into the war.
Mardi Gras World
What says New Orleans more than Mardi Gras? The Mardi Gras festival is indicative to New Orleans culture and tells a vivid story. Mardi Gras World is an essential visit for students on a school trip to New Orleans. Not only because it provides insight into the festival, but also because it tells of the history and importance of a local treasure. Mardi Gras World is a sneak peek into what it takes to organize and host a festival that has become a tourist attraction.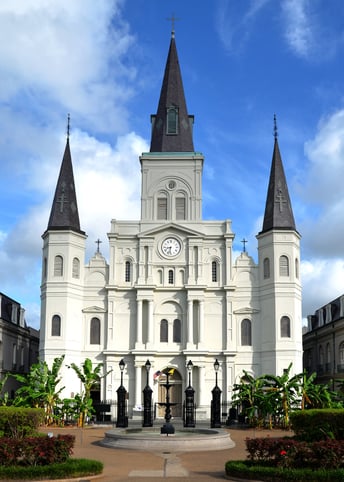 Photo of Jackson Square
Jackson Square
Another historic attraction for students visiting New Orleans is Jackson Square. The square dates back to the 18th century and is the setting of many stories of the past. However, there is much more to Jackson Square than its history! Students will be able to view the work if local artists whether it be paintings, drawings or music. The square also has shopping stores, restaurants, and museums. Jackson Square offers quite an array of things to do and see while visiting.

New Orleans is a unique and intricate destination for those on a school trip. The National WWII Museum, Mardi Gras World and Jackson Square are just a few of the many activities in New Orleans. Start planning your trip to New Orleans today!