Top Questions To Ask On A College Trip
One of the most important moments of a high-school student's time is deciding on a college to attend. As a trip organizer, you are most likely to prepare your students for this moment. On a college campus tour with GO Educational Tours, we believe that asking questions is the best form of knowledge. Questions from the application process to general campus living….all these questions can be answered on a college campus tour. Answers to these questions can determine a student's college experience. To help your students alone, here are our top questions to ask on your next college trip:
General Questions:
What is the enrollment of the school?
How many students graduate?
What is the average class size?
Is undergraduate housing available to students?
The student to faculty ratio?
What undergraduate majors do they offer?
How many credit hours is a full-time/part-time student?
Application Process:
What does the application entail?
What are the application due dates?
Are there any deadlines to be aware of?
Any early action applications?
When are decisions released/made?
When are transfer deadlines?
Can I apply for the spring semester?



Check out this video by Joi Wade on college visit advice!
Current student questions:
What is the average GPA?
Average SAT/ACT for students applying?
What are the AP/IB courses suggested?
What is the first-year retention percentage for students?
How many residence halls are available to students?
How many students live on campus?
What are the requirements for campus housing?
Does the school offer Student Organizations?
Any Study Abroad Programs? How many students participate?
What are some top aspects of the school? Any downfalls that could be improved?
Are the facilities available for students to reach out? Are they accessible?
What is the overall campus life like?
Is it safe? What are the safety measures and programs on campus?
What is dorm life like?
How is dining? Dining halls and variety?
Off-campus life? Any off-campus housing?
Are there internships available?
How is the career service center?
Are there job fairs for recruiting on campus?
Has it been easy to find part-time work or summer employment?

Students at their college graduation!
Cost Questions:
What does the tuition cost?
What are the student fees?
Technology Fees?
Typical Room & Board Fees?
Books & Supplies?
Transportation? Is parking available for your own car?
Scholarship Opportunities?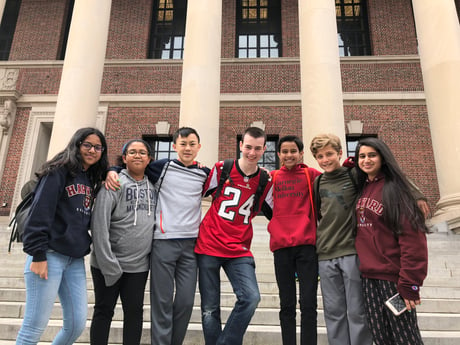 Students in front of Harvard Universities library!
Interested in resources?
The amount of questions your prospective student may have is endless. Trip organizers looking to plan a college trip should review questions with their students. The more questions a prospective student may have, the better the knowledge for their decision they have. Our top questions to ask on a college trip have been proven trip after trip!
We offer customized and personalized itineraries for trip organizers. Are you interested in a traditional college campus tour? Or specialized HBCU college tour? Our educational travel specialists are ready to help you plan, contact us below today!