Washington D.C. School Trip: College Campus Tours
There is no doubt the activities and attractions are never ending for students on a school trip to Washington D.C. Besides the educational museums and the vast outside parks, the capital city is perfect for students interested in visiting and touring colleges. Washington D.C. is home to a number of colleges and universities.
Begin Search for Perfect College

HBCUs

View Some of the Best Colleges
Begin Search for Perfect College
The search for the perfect college can be long, tiresome and some cases discouraging. It is a lot to think about and all things should be considered when making a decision so big. That is why it is always a good idea to start a little early. It definitely does not hurt to see some of the many options out there as there are quite a bit. Students that participate in a college/university tour while in their Washington D.C. school trip can begin to think about their options. The earlier the exposure the more well rounded and informed students will be when the time comes. This is the perfect way to begin the search for the perfect college.
Historically Black College/ University
For some, attending an HBCU is a dream come true. Many have envisioned themselves walking through the green spaces of Howard University with their new friends while others highly anticipate everything they can achieve while attending the University of the District of Columbia. Students visiting Washington D.C. have the opportunity of visiting these universities to learn more and begin shaping their future.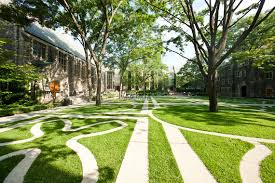 Photo of College Green Space
View Some of the Best Colleges
Some Washington D.C. colleges have been able to rank on the "US College Rank" by Times Higher Education. Georgetown University, an ivy league school is also located in Washington D.C. Viewing the school grounds and exploring the surrounding areas gives students a great feel of what it would be like to live in Washington D.C. if they chose to.
College tours are a great addition to a Washington D.C. school trip. Students will have the ability to view their future options and begin the process of choosing a college. They can ask questions and learn about their future as a college student.